Reflexes: physical and emotional - a reflexologist's guide

£17.49

by Tracey Smith, Sally Earlam, Laura Franzen, Sue Ricks and Jane Sheehan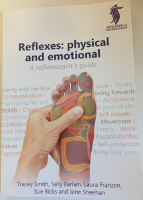 This book has been co-authored to bring you information about reflexology reflexes, related ailments to consider, and the emotional background that could lead to these reflexes being out of balance.
Book price £17.49

Members of the Association of Reflexologists can obtain the book at a discount via the AOR's website
As a trained reflexologist you may often find reflexes that are out of balance yet seemingly make no sense. The lung reflex seems crunchy when there is no reason to suspect it from your client's medical history. Yet the crunchiness is there under your fingers. This book is about working out why that reflex may be imbalanced. Is it out of balance for physical reasons, past physical reasons or could emotional issues have had an effect?
This is an easy to read reference book for all reflexologists; if you have ever thought "I don't know why this reflex is out of balance" then this book is for you.
ISBN 978 0 9933909 1 3
216 pages long in A5 format
Price £17.49 + postage and packaging
Postage and Packaging rates are £5.44 to UK, £9.24 to Europe, £12.74 to USA and Rest of World 1 and £13.44 to Australia and Rest of World 2 zones as defined by Royal Mail.
I'm including the book on my website as the AOR will not ship to overseas destinations