Treatment Bookings
Schedule an appointment with Jane or order gift vouchers by clicking here
Reflexology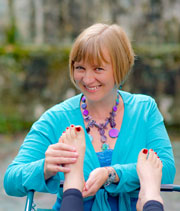 Have you ever noticed that your posture changes according to how you are feeling? When you are depressed, your shoulders slump, your head hangs low. When you are happy, you walk tall. How you feel affects your whole body. This includes the feet. You can imagine the impact that your body posture will have on the feet. It works both ways, the feet have a massive impact on the rest of your body too.
There are reflex areas in the feet, face and hands which a reflexologist uses to help the rest of the body rebalance, and relax. Many people think that reflexology is just a nice foot massage. They don't realize that through working these reflex points on the feet, we are able to assist the body in its healing. Studies have shown the powerful effect of touch on measurably reducing cortisol levels which is why this treatment is so fantastic for lowering stress states.
For information on references to scientific research relating to Reflexology, see the menu on the right.
Reflexology is a unique method of using the thumb and fingers on these reflex areas to:-
Relieve stress and tension
Improve blood supply and unblock nerve impulses
Help bring the body back into balance (homeostasis)
Jane's reflexology clients come to her for many different reasons. No two clients are the same and therefore no two treatments are the same.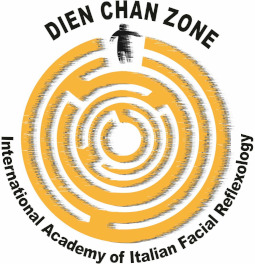 Jane is a specialist in Reflexology and has studied reflexology methods for use on feet, hands, face, and spine. Practicing since 1999, she regularly attends continuous professional development workshops and is pleased to announce that she is now offering Dien Chan Zone Facial Reflexology. This form of reflexology allows the receiver to have the benefits afforded by reflexology points helping elsewhere in the body to reach balance, whilst also offers the benefits of a facial, allowing the receiver to look, and feel refreshed and revitalised. Don't be fooled though. This is so much more than a beauty treatment. This treatment is working on mind, body and spirit. You will feel so much calmer, relaxed and balanced after a treatment.
Jane has also trained in Emmett Technique where two points are held to trigger muscle relaxation and is very effective for muscle tension release. Where the reflexology treatment reveals muscular issues, Jane may add some Emmett Technique at the end of the treatment.
For anyone who is interested in topping up their treatment by working some of the reflexes themselves, Jane will offer some reflexology techniques as homework.
Gift Vouchers
If you would like to organize a reflexology treatment for a friend, gift vouchers valid for twelve months are available.
Q & A's on Reflexology
Where will the treatment take place?
Jane currently has two clinics. They are in Scarisbrick, near Southport, and in Garstang. In Scarisbrick you will be seen at a room in her home. At the other venue you will be seen in a therapy room at Vitality, 2 Dimples Lane, Garstang. See "Contact" page to contact Jane directly, or ring 01995 600011 to book in Garstang.
You will be placed in a reclining chair, covered with a light blanket and asked to remove your footwear.
Will it hurt?
Treatments generally should not hurt although where the body is out of balance, the corresponding reflex point will show as tender or sharp or a "crunchy" feeling below the skin.
A re-adjustment of pressure means that this reflex can be treated without causing further discomfort.
How many treatments will I need?
There are no hard and fast rules to this. Usually four weekly treatments are enough. Some people only need one treatment to set them back on their feet. You will be the best judge.
Jane recommends that if you have a specific issue then it's probably best to have weekly treatments initially, then as you feel better you can space the gaps between treatments further apart.
If you are just having reflexology as a relaxation pamper treat then probably once a month is ideal.
What should I expect from a typical session?
Your medical history will be taken. Then you will be placed in a reclining chair, with your trousers pushed up to the knee. So please remember to wear loose trousers. A lotion will be used to anoint the feet (although a perfume-free powder is available as an alternative if you are allergic to perfumes).
A physical examination of the feet will be conducted to identify areas of the body that are in particular need of treatment.
The treatment will then commence with a light but firm pressure on each of the reflexes on the feet together with relaxation techniques.
Jane has several forms of reflexology she can use including feet, hands, face and spinal reflexology and will select which she deems most appropriate.
If any muscular issues are found during the reflexology treatment, Jane may offer Emmett Technique to work on releasing muscle tension.
How long will a reflexology treatment take?
Please allow one and a quarter hours for your initial consultation to allow a detailed case history to be taken.
Further treatments will take approximately an hour
Dien Chan Zone Facial Reflexology treatments are half an hour hand's on time, but the treatment slot booked will be an hour to allow for consultation and for the receiver to have time to continue the benefits of the treatment before being asked to leave the room.
What if I have an infection?
Although rubber gloves can be worn, it is better to wait until the infection has cleared before a treatment as there is danger of spreading the infection to other areas of the foot.
Facial or hand reflexology can always be offered as an alternative if required.
How much does it cost?
A one hour treatment costs £35. To book a treatment, call Jane on 07739 802175
What are your opening hours?
Whilst reflexology is Jane's full time business her hours vary week by week. Although her core working hours are 10am to 6pm, it is best to telephone to discuss times. Jane sometimes teaches elsewhere, hence the need for flexibility


Research into pain and reflexology
The following are all references to research papers that have explored the topic of pain and reflexology. Most libraries have a service where you can obtain a copy of such research papers for a small fee.
https://www.sciencedirect.com/science/article/pii/S1744388113000182
It is Carol Samuel's Exploratory study on the efficacy of reflexology for pain threshold and tolerance using an ice-pain experiment and sham TENS control
Conclusion was
"These findings demonstrate that reflexology produces antinociceptive effects in a controlled experiment and suggest the possibility that reflexology may be useful on its own or as an adjunct to medication in the treatment of pain conditions in man."
| | | | |
| --- | --- | --- | --- |
| Title | Authors | Journal | Reference |
| Reflexology for the treatment of pain in people with multiple sclerosis: a double-blind randomised sham-controlled clinical trial | Hughes, C.M. Smyth, S. Lowe-Strong, A.S. | Multiple Sclerosis | 2009 VOL 15 Number 11 pages 1329-1338 |
| Effectiveness of foot and hand massage in postcesarean pain control in a group of Turkish pregnant women | Nuriye Degirmen, Nebahat Ozerdogan, Deniz Sayiner, Nedime Kosgeroglu, Unal Ayranc | Applied Nursing Research | 2010 Vol 23 Number 3 pages 153-158 |
| Reflexology in the management of low back pain: A pilot randomised controlled trial | F. Quinn, C.M. Hughes, G.D. Baxter | Complementary Therapies in Medicine | 2008 Vol 16; number 1, Pages 3-8 |
| Reflexology treatment for patients with lower limb amputations, and phantom limb pain – An exploratory pilot study | Christine Ann Brown, Catherine Lido | Complementary Therapies in Clinical Practice | 2008 Vol 14, Number 2, Pages 124-131 |
| A randomised controlled study of reflexology for the management of chronic low back pain | Helen Poole, Sheila Glenn and Peter Murphy | European Journal of Pain | 2007 Vol 11; Number 8, Pages 878-887 |
| Partner-Delivered Reflexology: Effects on Cancer Pain and Anxiety | Stephenson, N. L. N. Swanson, M. Dalton, J. Keele, F. J. Engelke M. | Oncology Nursing Forum | 2007 Vol 34; Number 1, Pages 127-132 |
| Reflexology; A useful tool in pain management | Nest, R. V. Giaquinto, M. | Burns | 2007 Vol 33; Number 1 (Supplement), Page S90 |
| The effects of reflexology on foot pain and quality of life in a patient with rheumatoid arthritis; A case report | Khan, S. Otter, S. Springett, K | Foot | 2008 Vol 16. Number 2 Pages 112-116 |
| Using reflexology for pain management; a review | Stephenson N.L.N. Dalton J.A. | Journal of Holistic Nursing | 2003 Vol 21; Part 2, Pages 179-191 |
| The Effects of Foot Reflexology on Anxiety and Pain in Patients with Breast and Lung Cancer | Stephenson, N. L. Weinrich, S. P. Tavakolil, A.S. | Oncology Nursing Forum | 2000 Vol 27; Part 1, Pages 67 - 76 |