Completing the jigsaw - £9.90 (£8.25 + VAT)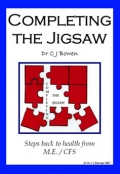 Do you know someone trying to recover from M.E. or Chronic Fatigue Syndrome?
Completing the Jigsaw is Dr Claire Bowen's ultimate guide to dealing with this complex condition holistically, via The Five Steps to Health. Written in an easy-to-understand style, this E-book provides a wealth of information and resources, useful for anyone trying to improve their own health or working with clients to improve theirs'.