About Jane Sheehan
Jane has been a reflexologist since 1999 when she finished her training at the Chiltern School of Reflexology. She built a thriving reflexology practice in Buckingham and became known internationally as the UK's leading foot reader.
She has toured the UK, USA, UAE, Australia, Ireland and France, spreading the word about foot reading and reflexology.
In 2016 she moved to Scarisbrick in Lancashire where she set up two reflexology clinics offering foot reflexology, face reflexology, foot reading and Emmett Technique.
Jane teaches foot reading internationally and is launching a reflexology school. She was a finalist in the category of Tutor of the Year at the FHT Excellence Awards and has even designed and launched an e-learning workshop on footreading. (No stranger to winning awards, she was, in 2010, awarded honorary membership status with both the Association of Reflexologists and Professional Reflexology in recognition of her significant contribution to the field of reflexology.)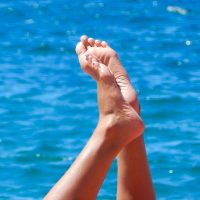 Jane has appearances on This Morning, Strictly's It Takes Two, Live with Gabby, Today with Des and Mel, Morning Glory and Big Brother's Little Brother and that's just in the UK. See the Free Stuff page for clips of some other TV appearances, radio interviews and magazine articles.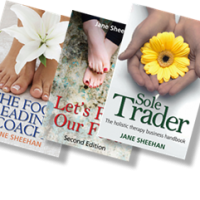 Jane has written "Let's Read Our Feet" which has been translated into French in "Lisons Nos Pieds", "The Foot Reading Coach", "Sole Trader: The Holistic Therapy Business Handbook" and has co-written "Reflexes: Physical and Emotional". She has these and also her poster and portable guide on the shop page of the website.
In 2020, Jane is launching her reflexology school in Scarisbrick together with Temple Academy of Reflexology so that she can combine her wide knowledge of reflexology with the student support facilities offered by her collaboration with Temple Academy of Reflexology.
Jane offers:
• Foot reading workshops
• Coaching
• Elearning for foot readers
• Photo readings
• Foot reading parties
• Corporate packages (having worked on PR stunts with Bourjois Cosmetics, TK Maxx, GlaxoSmithKline, Ocean Village Cruise Company, Selfridges Manchester)
Whether you join Jane for her School, her foot readings, her conference talks or her therapies, she is sure you will enjoy her unique approach, her care and her great sense of fun.