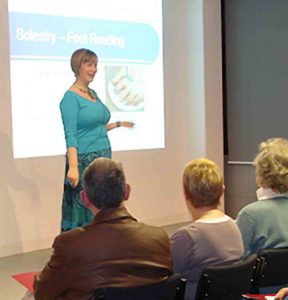 Jane has been giving talks on the topics of foot reading, reflexology, business, creative writing and on scientific research into reflexology since 2003 and is an accomplished public speaker.  She advertises where she is giving these talks on the back page of her "Pampering Times" e-zine which you can obtain from the home page of this website.
If you have a group and would like Jane to give a talk tailored to that group, do get in touch to discuss options and pricing.
Talks in the past have been tailored for:
The Association of Reflexologists
The Federation of Holistic Therapists
One Life Live Show
Holistic Health Exhibition
Women's Institute Groups
Fybromyalgia Group
U3A
Buckingham Carers
LIghter Life
Therapy Support Groups
Jane has her own laptop, projector and screen and would need the room set up with a six foot table at the front of the room on which to place her equipment and her merchandise for sale.  The attendees would need to sit in semi-circles so that they can all see the screen easily and where the talk is about feet, they need to wear easily removable footwear (so no tights/nylons please).
Jane prefers interactive talks, lots of questions from the group and likes to keep it as informative as it is fun.
Jane gave the members of the Healing Tree Network and guests an hours presentation on "Foot Reading". What a treat! Jane's entertaining and informative talk had the audience captivated, and the feed-back afterwards was terrific! Jane has a rare knack for making everyone in a large audience feel as though she is speaking to them personally. I cannot recommend her too highly, and look forward to the opportunity of attending another of her events."