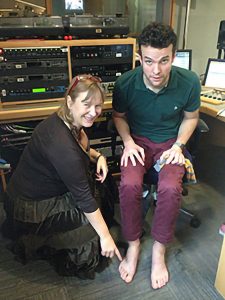 Jane wrote "Sole Trader: The Holistic Therapy Business Handbook", as a result of the change in questions she was receiving from students at her workshop.  They were asking "Should I be advertising in such and such a publication?"  Jane was thinking "You're asking the wrong question!"  So she wrote this book aimed at sharing all the things she wished she had known at the beginning of her career that she has since learned through experience.  It's written in a refreshingly direct way, avoiding business jargon, and shares things you didn't even know you needed to know such as how to practice asking for payment, what to take with you to a pamper evening, and the how and why of writing press releases.
We selected the photograph for this section because whilst the word "Business" conjures up images of dark suits and meetings, when you are a holistic therapist, the images associated with business are very different.  This is Jane doing a foot reading at BBC Radio Leeds with their presenter.  If you like the idea of learning how to improve your holistic therapy business, isn't it better to learn from someone who is already doing it?
Jane has become a regular business columnist for Holistic Therapist magazine, writing on business topics.
More recently, Jane has been in demand for one-to-one telephone mentoring. If this interests you, contact her via the contact page.
Use the menu on the left to learn more about Jane's book and about her creative thinking workshop.